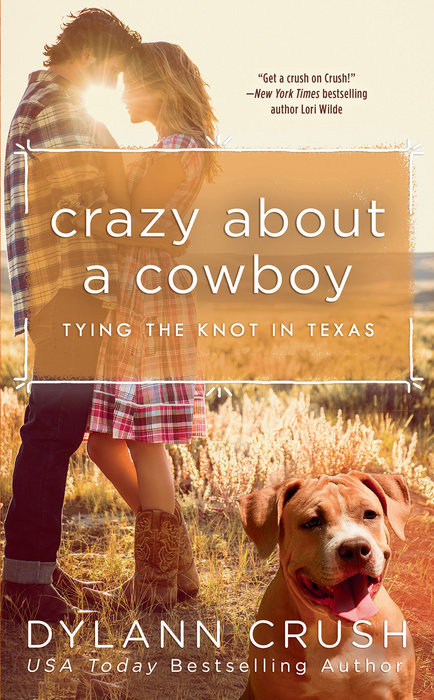 Title: Crazy About a Cowboy (Tying the Knot in Texas #3)
Author(s): Dylann Crush
Publisher: Berkley Romance
Publication Date: May 25, 2021
SYNOPSIS
Local cowboy Jasper Taylor has to decide if it's more important to help his hometown of Ido, Texas win a contest or for him to win the heart of the woman he loves.
The little town of Ido, Texas, is up against some big competition. With the state tourism department on a search for the most romantic town in Texas, Ido is pulling out all the stops to win the title. Leading the effort is the newly appointed hospitality host Jasper Taylor. If he can secure the honor for Ido, he'll be able to hang onto his family's land.
But when the reigning Miss Lovin' Texas and celebrity judge, Delilah Stone, rolls into town, she isn't exactly welcomed with open arms. Delilah's ready to put her beauty queen days behind her, and the only thing standing in her way is spending the next thirty days in Ido. It should be an easy gig, but someone in town is tired of all of the recent publicity. Somehow everything that ought to go right is suddenly going wrong.
Now it's up to Jasper to convince Delilah to give Ido another chance by showing her just how romantic the small town can be…without losing his own heart in the process.
REVIEW
I always love small town romances because they always make my heart happy and can usually be counted on when I just need a sweet, wholesome, steamy read. It was highly entertaining how everything went so wrong for Jasper in this book. He tried so hard to be the best host for Delilah but he just couldn't help his natural magnetism for disaster. Usually it's the woman left fumbling so it was a nice change of pace to see the guy in the hot seat. He was also super sweet and is just trying to please everyone, even when he's so desperate to save his family's farm. Delilah is the dutiful daughter and is basically her mother's vessel for success. She's a 'yes girl' because she's always felt so guilty saying no, even when she didn't want to. I always love the trope where the city girl crashes in on the small town and this one reminded me of books like Bittersweet by Sarina Bowen, Arrogant Devil by R.S. Grey, and Drive Me Wild by Melanie Harlow. Also, this is my first book by her and it is part of a series, but it can definitely be read as a standalone!
ABOUT THE AUTHOR
Dylann Crush is the author of All American Cowboy and Cowboy Christmas Jubilee. A romantic at heart, she loves her heroines spunky and her heroes super sexy. When she's not dreaming up steamy story lines, she can be found sipping a margarita and searching for the best Tex-Mex food in Minnesota. Although she grew up in Texas, she currently lives in a suburb of Minneapolis/St. Paul with her unflappable husband, three energetic kids, a clumsy Great Dane, a rescue mutt, and a very chill cat. She loves to connect with readers, other authors, and fans of tequila. You can find her at dylanncrush.com.
*I received a copy of this title from the publisher in exchange for an honest review*