The Bride Test by Helen Hoang | May 7


Khai Diep has no feelings. Well, he feels irritation when people move his things or contentment when ledgers balance down to the penny, but not big, important emotions—like grief. And love. He thinks he's defective. His family knows better—that his autism means he just processes emotions differently. When he steadfastly avoids relationships, his mother takes matters into her own hands and returns to Vietnam to find him the perfect bride.

As a mixed-race girl living in the slums of Ho Chi Minh City, Esme Tran has always felt out of place. When the opportunity arises to come to America and meet a potential husband, she can't turn it down, thinking this could be the break her family needs. Seducing Khai, however, doesn't go as planned. Esme's lessons in love seem to be working…but only on herself. She's hopelessly smitten with a man who's convinced he can never return her affection.
With Esme's time in the United States dwindling, Khai is forced to understand he's been wrong all along. And there's more than one way to love.
Romanov by Nadine Brandes | May 7


The history books say I died.
They don't know the half of it.
Anastasia "Nastya" Romanov was given a single mission: to smuggle an ancient spell into her suitcase on her way to exile in Siberia. It might be her family's only salvation. But the leader of the Bolshevik army is after them . . . and he's hunted Romanov before.
Nastya's only chances of survival are to either release the spell, and deal with the consequences, or enlist help from Zash, the handsome soldier who doesn't act like the average Bolshevik. Nastya's never dabbled in magic before, but it doesn't frighten her as much as her growing attraction for Zash. She likes him. She thinks he might even like her…
That is, until she's on one side of a firing squad…and he's on the other.
Her Royal Highness by Rachel Hawkins | May 7


Millie Quint is devastated when she discovers that her sort-of-best friend/sort-of-girlfriend has been kissing someone else. And because Millie cannot stand the thought of confronting her ex every day, she decides to apply for scholarships to boarding schools . . . the farther from Houston the better.
Millie can't believe her luck when she's accepted into one of the world's most exclusive schools, located in the rolling highlands of Scotland. Everything about Scotland is different: the country is misty and green; the school is gorgeous, and the students think Americans are cute.
The only problem: Mille's roommate Flora is a total princess.
She's also an actual princess. Of Scotland.
At first, the girls can barely stand each other–Flora is both high-class and high-key–but before Millie knows it, she has another sort-of-best-friend/sort-of-girlfriend. Even though Princess Flora could be a new chapter in her love life, Millie knows the chances of happily ever afters are slim . . . after all, real life isn't a fairy tale . . . or is it?
This second book in Rachel Hawkins' fun, flirty Royals series brings a proud perspective to a classic romance.
Nocturna by Maya Motayne | May 7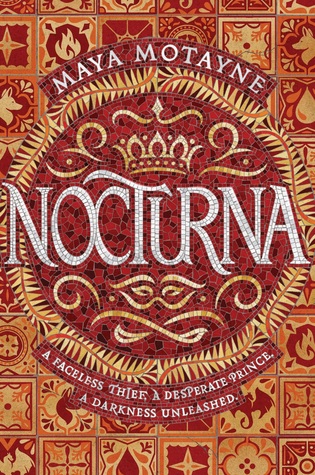 Set in a Latinx-inspired world, a face-changing thief and a risk-taking prince must team up to defeat a powerful evil they accidentally unleashed.
To Finn Voy, magic is two things: a knife to hold under the chin of anyone who crosses her…and a disguise she shrugs on as easily as others pull on cloaks.
As a talented faceshifter, it's been years since Finn has seen her own face, and that's exactly how she likes it. But when Finn gets caught by a powerful mobster, she's forced into an impossible mission: steal a legendary treasure from Castallan's royal palace or be stripped of her magic forever.
After the murder of his older brother, Prince Alfehr is first in line for the Castallan throne. But Alfie can't help but feel that he will never live up to his brother's legacy. Riddled with grief, Alfie is obsessed with finding a way to bring his brother back, even if it means dabbling in forbidden magic.
But when Finn and Alfie's fates collide, they accidentally unlock a terrible, ancient power—which, if not contained, will devour the world. And with Castallan's fate in their hands, Alfie and Finn must race to vanquish what they have unleashed, even if it means facing the deepest darkness in their pasts.
Dark Shores by Danielle L. Jensen | May 7


A PIRATE WITH A WILL OF IRON
Teriana is the second mate of the Quincense, a ship beholden to the Goddess of the Seas. Her people are born of the waves, and they alone know how to cross the impassable oceans between East and West. 
A SOLDIER WITH A SECRET
Marcus is the commander of the Thirty-Seventh, the notorious legion that has led the Celendor Empire to conquer the entire East. The legion is his only family, and even they don't know the secret he's been hiding since childhood.
A DANGEROUS QUEST
When a power-hungry ruler captures Teriana's crew and threatens to reveal Marcus's secret unless they help him conquer the unknown West, the two are forced into an unlikely–and unwilling– alliance. They unite for the sake of their families, but both must decide how far they are willing to go, and how much they are willing to sacrifice.
The Unhoneymooners by Christina Lauren | May 14


Olive is always unlucky: in her career, in love, in…well, everything. Her identical twin sister Amy, on the other hand, is probably the luckiest person in the world. Her meet-cute with her fiancé is something out of a romantic comedy (gag) and she's managed to finance her entire wedding by winning a series of Internet contests (double gag). Worst of all, she's forcing Olive to spend the day with her sworn enemy, Ethan, who just happens to be the best man.
Olive braces herself to get through 24 hours of wedding hell before she can return to her comfortable, unlucky life. But when the entire wedding party gets food poisoning from eating bad shellfish, the only people who aren't affected are Olive and Ethan. And now there's an all-expenses-paid honeymoon in Hawaii up for grabs.
Putting their mutual hatred aside for the sake of a free vacation, Olive and Ethan head for paradise, determined to avoid each other at all costs. But when Olive runs into her future boss, the little white lie she tells him is suddenly at risk to become a whole lot bigger. She and Ethan now have to pretend to be loving newlyweds, and her luck seems worse than ever. But the weird thing is that she doesn't mind playing pretend. In fact, she feels kind of… lucky.
Red, White & Royal Blue by Casey McQuiston | May 14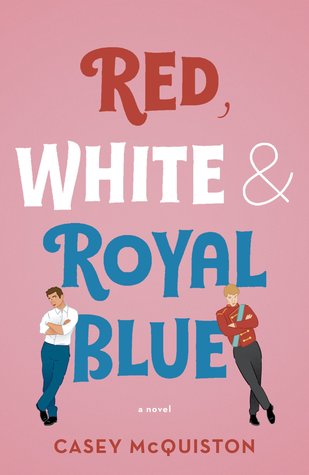 A big-hearted romantic comedy in which First Son Alex falls in love with Prince Henry of Wales after an incident of international proportions forces them to pretend to be best friends…
First Son Alex Claremont-Diaz is the closest thing to a prince this side of the Atlantic. With his intrepid sister and the Veep's genius granddaughter, they're the White House Trio, a beautiful millennial marketing strategy for his mother, President Ellen Claremont. International socialite duties do have downsides—namely, when photos of a confrontation with his longtime nemesis Prince Henry at a royal wedding leak to the tabloids and threaten American/British relations.
The plan for damage control: staging a fake friendship between the First Son and the Prince. Alex is busy enough handling his mother's bloodthirsty opponents and his own political ambitions without an uptight royal slowing him down. But beneath Henry's Prince Charming veneer, there's a soft-hearted eccentric with a dry sense of humor and more than one ghost haunting him. 
As President Claremont kicks off her reelection bid, Alex finds himself hurtling into a secret relationship with Henry that could derail the campaign and upend two nations. And Henry throws everything into question for Alex, an impulsive, charming guy who thought he knew everything: What is worth the sacrifice? How do you do all the good you can do? And, most importantly, how will history remember you?
We Hunt the Flame by Hafsah Faizal | May 14


People lived because she killed.
People died because he lived.
Zafira is the Hunter, disguising herself as a man when she braves the cursed forest of the Arz to feed her people. Nasir is the Prince of Death, assassinating those foolish enough to defy his autocratic father, the king. If Zafira was exposed as a girl, all of her achievements would be rejected; if Nasir displayed his compassion, his father would punish him in the most brutal of ways. 
Both are legends in the kingdom of Arawiya—but neither wants to be.
War is brewing, and the Arz sweeps closer with each passing day, engulfing the land in shadow. When Zafira embarks on a quest to uncover a lost artifact that can restore magic to her suffering world and stop the Arz, Nasir is sent by the king on a similar mission: retrieve the artifact and kill the Hunter. But an ancient evil stirs as their journey unfolds—and the prize they seek may pose a threat greater than either can imagine.
Set in a richly detailed world inspired by ancient Arabia, We Hunt the Flame is a gripping debut of discovery, conquering fear, and taking identity into your own hands.
Going Off-Script by Jen Wilde | May 21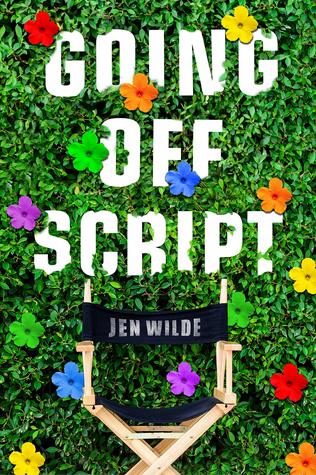 A TV writer's room intern must join forces with her crush to keep her boss from ruining a lesbian character in this diverse contemporary YA romance from the author of Queens of Geek.
Seventeen-year-old Bex is thrilled when she gets an internship on her favorite tv show, Silver Falls. Unfortunately, the internship isn't quite what she expected… instead of sitting in a crowded writer's room volleying ideas back and forth, Production Interns are stuck picking up the coffee.
Determined to prove her worth as a writer, Bex drafts her own script and shares it with the head writer―who promptly reworks it and passes it off as his own! Bex is understandably furious, yet…maybe this is just how the industry works? But when they rewrite her proudly lesbian character as straight, that's the last straw! It's time for Bex and her crush to fight back.
Jen Wilde's newest novel is both a fun, diverse love story and a very relevant, modern take on the portrayal of LGBT characters in media.
Are any of these books on your TBR? Which upcoming releases are you most anticipating? Let me know in the comments!