Top Ten Tuesday was created by The Broke and the Bookish in June of 2010 and was moved to That Artsy Reader Girl in January of 2018. It was born of a love of lists, a love of books, and a desire to bring bookish friends together.
Happy Tuesday! I decided to try out a new meme this week because I saw the theme and I'm constantly adding to my TBR. I've added a few great books recently that sound amazing and I thought I'd share. Some of these aren't coming out for a bit, but it's always great to get excited for future releases as well. Here are my picks for the week:
The Never Tilting World by Rin Chupeco
Pitched as Frozen meets Mad Max, the series is about a world ruled by goddesses that has been split in two—one half existing in perpetual scorching Day, the other in freezing Night—and the twins separated at birth who learn they're destined to make their way across the great divide and rule a reunited world. 
Before the Broken Star by Emily R. King
Everley Donovan is living on borrowed time. The lone survivor of her family's unexplained assassination, she was saved by an ingeniously crafted clockwork heart. But the time she was given won't last forever. Now, every tick-tock reminds her how fragile her existence is and hastens her quest to expose Killian Markham, the navy admiral who shattered her world and left her for dead. But Everley's hunt for justice will be a long and hard-won voyage.
Her journey takes her to a penal colony on a cursed isle, where she will be married off and charged to build the new world. It is here, and beyond, that hidden realms hide, treasures are unearthed, her family secrets are buried, and young love will test the strength of her makeshift heart. When Everley discovers Markham may not be who he seems, her pursuit for truth is bound to his redemption, her tragic history, and her astonishing destiny.
The Bones of Ruin by Sarah Raughley
Set in Victorian England, the book follows Iris, an African tightrope walker with a secret: she cannot die. But when Iris gets involved with a mysterious society that's convinced the world is ending, she's drafted in the fight-to-the-death Tournament of Freaks where she learns the terrible truth of who and what she really is.
New Orleans Rush by Kelly Siskind
Falling for your surly boss is a rotten idea.
Letting him saw you in half is even worse…
Beatrice Baker may be a struggling artist, but she believes all hardships have silver linings…until she follows her boyfriend to New Orleans and finds him with another woman. Instead of turning those lemons into lemonade, she drinks lemon drop martinis and keys the wrong man's car.
Now she works for Huxley Marlow of the Marvelous Marlow Boys, getting shoved in boxes as an on-stage magician's assistant. A cool job for some, but Bea's been coerced into the role to cover her debt. She also maybe fantasizes about her boss's adept hands and what else they can do.
She absolutely will not fall for him, or kiss him senseless. Until she does. The scarred, enigmatic Huxley has unwittingly become her muse, unlocking her artistic dry spell, but his vague nightly activities are highly suspect. The last time Beatrice trusted a man, her bank account got drained and she almost got arrested. Surely this can't end that badly…right?
Night Spinner by Addie Thorley
Set in a world inspired by the Arctic tundra, this reimagining of The Hunchback of Notre Dame follows a girl who used to be one of the greatest warriors in the Sky King's army, but after losing control of her ability to wield the threads of darkness, she is imprisoned in a monastery. When offered a chance at reinstatement in exchange for catching a rebel, she eagerly accepts, only to discover that the tides of war have changed.
Shadowscent by P.M. Freestone
Across the Aramtesh Empire, scent is everything. Prayers only reach heaven on sacred incense, and perfumes are prized status symbols. 17-year-old Rakel has an uncanny ability with fragrances, but her skills aren't enough to buy her dying father more time.
Ash bears the tattoos of an imperial bodyguard. When his prince, Nisai, insists on a diplomatic mission to an outer province, Ash is duty-bound to join the caravan. It's a nightmare protecting Nisai on the road. But it's even harder for Ash to conceal a secret that could see him exiled or executed.
Rakel and Ash have nothing in common until smoke draws them to a field of the Empire's rarest flower. Nisai's been poisoned, flames devour the priceless blooms, and the pair have "suspect" clinging to them like a bad stench. Their futures depend on them working together to decipher clues, defy dangers and defeat their own demons in a race to source an antidote . . . before the imperial army hunts them down.
Three Little Words by Jenny Holiday
Gia Gallo is officially in bridesmaid hell. Stranded in New York with her best friend's wedding dress, Gia has six days to make it to Florida in time for the ceremony. And oh-so-charming best man Bennett Buchanan has taken the last available rental car. Looks like she's in for one long road trip with the sexiest – and most irritating – Southern gentleman she's ever met…
Bennett's pretty sure that if there was ever a woman to break his "no flings" rule, Gia would be it. Sure, she's stubborn. She's also funny, smart, and the attraction between them is getting hotter with every state line they cross. While Bennett doesn't do casual, Gia doesn't do "relationships." But if they break the rules, this unlikely pair might discover that their impromptu road trip could turn out to be the best ride of their lives.
Hot Dog Girl by Jennifer Dugan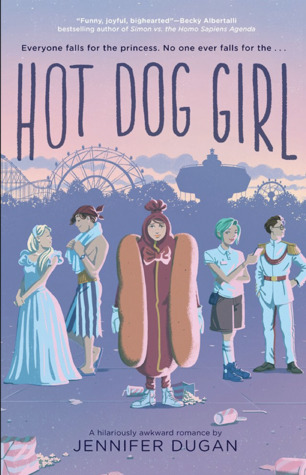 Elouise (Lou) Parker is determined to have the absolute best, most impossibly epic summer of her life. There are just a few things standing in her way:
* She's landed a job at Magic Castle Playland . . . as a giant dancing hot dog.
* Her crush, the dreamy Diving Pirate Nick, already has a girlfriend, who is literally the Princess of the park. But Lou's never liked anyone, guy or otherwise, this much before, and now she wants a chance at her own happily ever after.
* Her best friend, Seeley, the carousel operator, who's always been up for anything, suddenly isn't when it comes to Lou's quest to set her up with the perfect girl or Lou's scheme to get close to Nick.
* And it turns out that this will be their last summer at Magic Castle Playland–ever–unless she can find a way to stop it from closing.
Jennifer Dugan's sparkling debut coming-of-age queer romance stars a princess, a pirate, a hot dog, and a carousel operator who find love–and themselves–in unexpected people and unforgettable places.
Crescent City by Sarah J. Maas
Set in a world where humans struggle to survive amid intricate hierarchies of demons, shifters, angels, and countless other magical creatures, Crescent City tells the story of half-human, half-Sidhe Bryce Quinlan. After the brutal slaying of her best friend, Bryce joins forces with a powerful warrior-angel to hunt down the killer, leading them toward a treacherous enemy that could destroy the fabric of their world. The series will feature an array of captivating new characters, including a spitfire heroine who will stop at nothing to avenge her friend and protect her vibrant city, an epic world on the brink of war, and Maas' signature heart-pounding romance.
To Best the Boys by Mary Weber
Every year for the past fifty-four years, the residents of Pinsbury Port receive a mysterious letter inviting all eligible-aged boys to compete for an esteemed scholarship to the all-male Stemwick University. Every year, the poorer residents look to see that their names are on the list. The wealthier look to see how likely their sons are to survive. And Rhen Tellur opens it to see if she can derive which substances the ink and parchment are created from, using her father's microscope.
In the province of Caldon, where women are trained in wifely duties and men are encouraged into collegiate education, sixteen-year-old Rhen Tellur wants nothing more than to become a scientist. As the poor of her seaside town fall prey to a deadly disease, she and her father work desperately to find a cure. But when her Mum succumbs to it as well? Rhen decides to take the future into her own hands—through the annual all-male scholarship competition.
With her cousin, Seleni, by her side, the girls don disguises and enter Mr. Holm's labyrinth, to best the boys and claim the scholarship prize. Except not everyone's ready for a girl who doesn't know her place. And not everyone survives the maze.
What are the latest books you've added to your TBR? Are any of these on your list yet? Let me know in the comments!