Enchantée by Gita Trelease | February 5
Love. 
Magic. 
Revolution.

When smallpox kills her parents, seventeen-year-old Camille Durbonne must find a way to provide for her frail sister while managing her volatile brother. Relying on petty magic–la magie ordinaire–Camille painstakingly transforms scraps of metal into money to buy the food and medicine they need. But when the coins won't hold their shape and her brother disappears with the family's savings, Camille must pursue a richer, more dangerous mark: the glittering court of Louis XVI and Marie Antoinette.

With the dark magic she learned from her mother, Camille transforms herself into 'the Baroness de la Fontaine' and is swept up into life at the Palace of Versailles, where aristocrats both fear and hunger for la magie. Her resentment of the rich at odds with the allure of glamour and excess, Camille is astonished to find that her would-be suitor Lazare, a handsome young inventor whom she thought shared her dreams of liberty, is also living a double life.
As the Baroness de la Fontaine, Camille gambles at cards and flirts, desperate to maintain her place at court and keep herself and her sister off the streets. But la magie has its costs. When a scheming courtier blackmails her and Lazare's affections shift, Camille loses control of her secrets. Then revolution erupts, and she must choose–love or loyalty, democracy or aristocracy, reality or la magie–before Paris burns.
Crown of Feathers by Nicki Pau Preto | February 12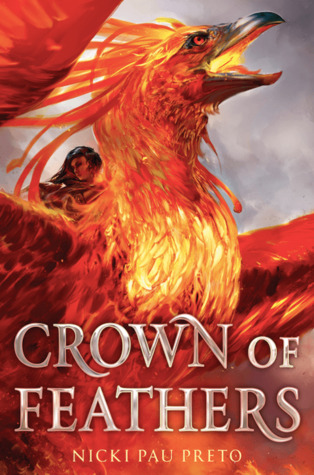 I had a sister, once…
In a world ruled by fierce warrior queens, a grand empire was built upon the backs of Phoenix Riders—legendary heroes who soared through the sky on wings of fire—until a war between two sisters ripped it all apart.
I promised her the throne would not come between us.
Sixteen years later, Veronyka is a war orphan who dreams of becoming a Phoenix Rider from the stories of old. After a shocking betrayal from her controlling sister, Veronyka strikes out alone to find the Riders—even if that means disguising herself as a boy to join their ranks.
But it is a fact of life that one must kill or be killed. Rule or be ruled.
Just as Veronyka finally feels like she belongs, her sister turns up and reveals a tangled web of lies between them that will change everything. And meanwhile, the new empire has learned of the Riders' return and intends to destroy them once and for all.
Sometimes the title of queen is given. Sometimes it must be taken.
The Afterward by E.K. Johnston | February 19
It has been a year since the mysterious godsgem cured Cadrium's king and ushered in what promised to be a new golden age. The heroes who brought the gem home are renowned in story and song, but for two fellows on the quest, peace and prosperity do not come easily. 
Apprentice Knight Kalanthe Ironheart wasn't meant for heroism this early in life, and while she has no intention of giving up the notoriety she has earned, her reputation does not pay her bills. With time running out, Kalanthe may be forced to betray not her kingdom or her friends, but her own heart as she seeks a stable future for herself and those she loves.
Olsa Rhetsdaughter was never meant for heroism at all. Beggar, pick pocket, thief, she lived hand to mouth on the city streets until fortune–or fate–pulled her into Kalanthe's orbit. And now she's quite reluctant to leave it. Even more alarmingly, her fame has made her recognizable, which makes her profession difficult, and a choice between poverty and the noose isn't much of a choice at all.
Both girls think their paths are laid out, but the godsgem isn't quite done with them and that new golden age isn't a sure thing yet. 
In a tale both sweepingly epic and intensely personal, Kalanthe and Olsa fight to maintain their newfound independence and to find their way back to each other.
The Priory of the Orange Tree by Samantha Shannon | February 26
A world divided.
A queendom without an heir.
An ancient enemy awakens.
The House of Berethnet has ruled Inys for a thousand years. Still unwed, Queen Sabran the Ninth must conceive a daughter to protect her realm from destruction – but assassins are getting closer to her door. 
Ead Duryan is an outsider at court. Though she has risen to the position of lady-in-waiting, she is loyal to a hidden society of mages. Ead keeps a watchful eye on Sabran, secretly protecting her with forbidden magic.
Across the dark sea, Tane has trained all her life to be a dragonrider, but is forced to make a choice that could see her life unravel.
Meanwhile, the divided East and West refuse to parley, and forces of chaos are rising from their sleep.
An Affair of Poisons by Addie Thorley | February 26
After unwittingly helping her mother poison King Louis XIV, seventeen-year-old alchemist Mirabelle Monvoisin is forced to see her mother's Shadow Society in a horrifying new light: they're not heroes of the people, as they've always claimed to be, but murderers. Herself included. Mira tries to ease her guilt by brewing helpful curatives, but her hunger tonics and headache remedies cannot right past wrongs or save the dissenters her mother vows to purge.
Royal bastard Josse de Bourbon is more kitchen boy than fils de France. But when the Shadow Society assassinates the Sun King and half the royal court, he must become the prince he was never meant to be in order to save his injured sisters and the petulant Dauphin. Forced to hide in the derelict sewers beneath the city, any hope of reclaiming Paris seems impossible—until Josse's path collides with Mirabelle's, and he finds a surprising ally in his sworn enemy.
She's a deadly poisoner. He's a bastard prince. Together, they form a tenuous pact to unite the commoners and former nobility against the Shadow Society. But can a rebellion built on mistrust ever hope to succeed?
Four Dead Queens by Astrid Scholte | February 26


A divided nation. Four Queens. A ruthless pickpocket. A noble messenger. And the murders that unite them.
​
Get in quick, get out quicker.
These are the words Keralie Corrington lives by as the preeminent dipper in the Concord, the central area uniting the four quadrants of Quadara. She steals under the guidance of her mentor Mackiel, who runs a black market selling their bounty to buyers desperate for what they can't get in their own quarter. For in the nation of Quadara, each quarter is strictly divided from the other. Four queens rule together, one from each region:
Toria: the intellectual quarter that values education and ambition
Ludia: the pleasure quarter that values celebration, passion, and entertainment
Archia: the agricultural quarter that values simplicity and nature
Eonia: the futurist quarter that values technology, stoicism and harmonious community
When Keralie intercepts a comm disk coming from the House of Concord, what seems like a standard job goes horribly wrong. Upon watching the comm disks, Keralie sees all four queens murdered in four brutal ways. Hoping that discovering the intended recipient will reveal the culprit – information that is bound to be valuable bartering material with the palace – Keralie teams up with Varin Bollt, the Eonist messenger she stole from, to complete Varin's original job and see where it takes them.
Warrior of the Wild by Tricia Levenseller | February 26

How do you kill a god?
As her father's chosen heir, eighteen-year-old Rasmira has trained her whole life to become a warrior and lead her village. But when her coming-of-age trial is sabotaged and she fails the test, her father banishes her to the monster-filled wilderness with an impossible quest: to win back her honour, she must kill the oppressive god who claims tribute from the villages each year or die trying.

Are any of these books on your TBR? Which upcoming releases are you most anticipating? Let me know in the comments!