Waiting on Wednesday is a weekly meme hosted by Breaking the Spine that features highly anticipated book releases.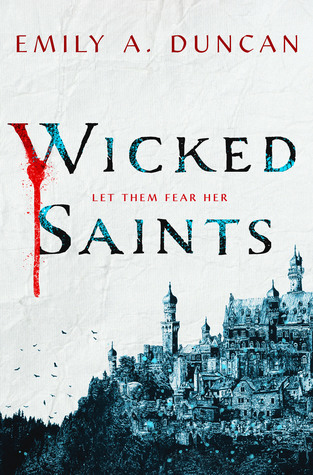 Title: Wicked Saints
Author: Emily A. Duncan
Publisher: Wednesday Books
Publication Date: April 2, 2019
A girl who can speak to gods must save her people without destroying herself.
A prince in danger must decide who to trust.
A boy with a monstrous secret waits in the wings. 
Together, they must assassinate the king and stop the war.
In a centuries-long war where beauty and brutality meet, their three paths entwine in a shadowy world of spilled blood and mysterious saints, where a forbidden romance threatens to tip the scales between dark and light.

Why am I excited?
I have heard nothing but AWESOME about this book and I must have it! The world is inspired by Russia and Poland and Emily actually created her own language for this book, which is insanely epic. It's a high fantasy gothic Joan of Arc and it has a monster boy and blood mages. Might I also add that the author loves Leigh Bardugo and The Darkling? Might I add the whole part about assassinating a king? This is going to be dark and delicious and I can't wait for all the stabby.
Is this on your TBR? What other 2019 debuts are you excited for? Let me know in the comments!