Waiting on Wednesday is a weekly meme hosted by Breaking the Spine that features highly anticipated book releases.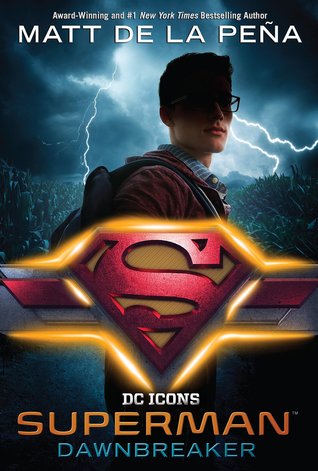 Title: Superman: Dawnbreaker (DC Icons #4)
Author: Matt de la Peña
Publisher: Random House books for Young Readers
Publication Date: March 5, 2019
When the dawn breaks, a hero rises.
His power is beyond imagining.
Clark Kent has always been faster, stronger–better–than everyone around him. But he wasn't raised to show off, and drawing attention to himself could be dangerous. Plus, it's not like he's earned his powers . . . yet.
But power comes with a price.
Lately it's difficult to hold back and keep his heroics in the shadows. When Clark follows the sound of a girl crying, he comes across Gloria Alvarez and discovers a dark secret lurking in Smallville. Turns out, Clark's not the only one hiding something. Teaming up with his best friend, Lana Lang, he throws himself into the pursuit of the truth. What evil lies below the surface of his small town? And what will it cost Clark to learn about his past as he steps into the light to become the future Man of Steel? Because before he can save the world, he must save Smallville.

Why am I excited?
After reading Marie Lu and Sara J. Maas's superhero retellings, I'm excited for the YA spin on Superman! If young Clark Kent is as adorable as Bruce was in Batman: Nightwalker then sign me up. I'm interested to see what the author will bring to Smallville and if there will be any appearances from the Luthor's. Also, who is going to be the villain?! I have so many questions that need answering.