Here are the ARCs I've received over the past month for review! I got a slight mix of genres (even a nonfiction book–GASP!) and I can't wait to read them all. Except When Life Gives You Demons because I've already read and reviewed it.

Children of the Bloodlands by S.M. Beiko | September 25
The dazzling second book in S.M. Beiko's Realms of Ancient series
Three months after the battle of Zabor, the five friends that came together to defeat her have been separated. Burdened with the Calamity Stone she acquired in Scion of the Fox, Roan has gone to Scotland to retrace her grandmother's steps in an attempt to stop further evil from entering the world.

Meanwhile, a wicked monster called Seela has risen from the ashy Bloodlands and is wreaking havoc on the world while children in Edinburgh are afflicted by a strange plague; Eli travels to Seoul to face judgment and is nearly murdered; Natti endures a taxing journey with two polar bears; Phae tries desperately to obtain the key to the Underworld; and Barton joins a Family-wide coalition as the last defense against an enemy that will stop at nothing to undo Ancient's influence on Earth — before there is no longer an Earth to fight for.
Darkness, death, and the ancient powers that shape the world will collide as our heroes discover that some children collapse under their dark inheritance, and those that don't are haunted by blood.

Black Wings Beating by Alex London | October 9
The people of Uztar have long looked to the sky with hope and wonder. Nothing in their world is more revered than the birds of prey and no one more honored than the falconers who call them to their fists.
Brysen strives to be a great falconer–while his twin sister, Kylee, rejects her ancient gifts for the sport and wishes to be free of falconry. She's nearly made it out, too, but a war is rolling toward their home in the Six Villages, and no bird or falconer will be safe.
Together the twins must journey into the treacherous mountains to trap the Ghost Eagle, the greatest of the Uztari birds and a solitary killer. Brysen goes for the boy he loves and the glory he's long craved, and Kylee to atone for her past and to protect her brother's future. But both are hunted by those who seek one thing: power.

When Life Gives You Demons by Jennifer Honeybourn | July 17
Sixteen-year-old Shelby Black has spent the past year training to be an exorcist. Her great-uncle Roy—a Catholic priest and Shelby's guardian—believes she has a gift for expelling demons, and he's put her through exorcist boot camp hell, but he still doesn't trust her to do an exorcism on her own.
High school is hard enough without having to explain that you fight demons for a living, so Shelby keeps her extracurricular activity quiet, especially from Spencer, her cute math tutor. Secrets run in Shelby's family, though: her mother has been missing ever since an exorcism went horribly wrong, and Uncle Roy is tight-lipped about it. But Shelby's hell-bent on finding her mom, no matter what—even if what it ends up costing her her soul AND a date with Spencer.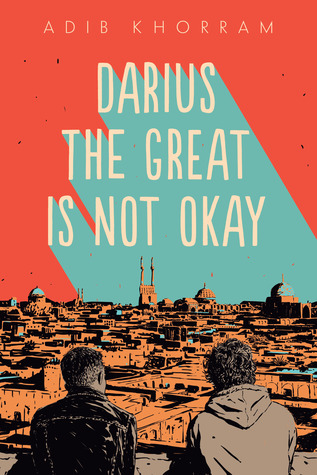 Darius the Great is Not Okay by Adib Khorram | August 28
Darius doesn't think he'll ever be enough, in America or in Iran. Hilarious and heartbreaking, this unforgettable debut introduces a brilliant new voice in contemporary YA.
Darius Kellner speaks better Klingon than Farsi, and he knows more about Hobbit social cues than Persian ones. He's about to take his first-ever trip to Iran, and it's pretty overwhelming–especially when he's also dealing with clinical depression, a disapproving dad, and a chronically anemic social life. In Iran, he gets to know his ailing but still formidable grandfather, his loving grandmother, and the rest of his mom's family for the first time. And he meets Sohrab, the boy next door who changes everything.
Sohrab makes sure people speak English so Darius can understand what's going on. He gets Darius an Iranian National Football Team jersey that makes him feel like a True Persian for the first time. And he understand that sometimes, best friends don't have to talk. Darius has never had a true friend before, but now he's spending his days with Sohrab playing soccer, eating rosewater ice cream, and sitting together for hours in their special place, a rooftop overlooking the Yazdi skyline.
Sohrab calls him Darioush–the original Persian version of his name–and Darius has never felt more like himself than he does now that he's Darioush to Sohrab. When it's time to go home to America, he'll have to find a way to be Darioush on his own.

Watch Your Tongue: What Our Everyday Sayings and Idioms Figuratively Mean by Mark Abley | October 16
Phrases, idioms, and clichés—why do we say the things we say? Watch Your Tongue explores weird and wonderful everyday sayings and what they reveal about us.
Do you ever wonder why you shouldn't have a cow but you should seize a bull by its horns? Who has the better reputation in language—cats or dogs? Do you sometimes feel that our speech is all smoke and mirrors or that our expressions simply make no sense?
In Watch Your Tongue, award-winning author Mark Abley explores the phrases, idioms, and clichés of our everyday language. With wit and subtle wisdom, he unravels the mysteries of these expressions, illuminating the history, tradition and stories behind everything we say. Pulling examples from Shakespeare's plays to sports team names, ancient Rome to Twitter, Abley shares samples and anecdotes of the eccentric ways that we play with, parse, and pattern language.
Why do so many companies use fruit for their brand names? What do politicians mean when they say they're going to "drain the swamp"? Why does English use chickens to signify cowardice? Abley dives into the history and psychology behind these examples and countless others, unpacking their significance (and sheer absurdity) to show how our language developed, where it is headed, and what we can learn about ourselves from it.
Whimsically illustrated, easily browsable, and full of catchy sidebars, Watch Your Tongue celebrates how we amuse ourselves with words and what our sayings reveal about the way we see the world.
Are any of these on your TBR? Which upcoming releases are you anticipating? Let me know in the comments!