These are all the ARCs I've received from publishers in the past month to read and review. These are a mix of upcoming YA and romance books that I'm excited for that release from the span of the end of May until October!
All the Little Lights by Jamie McGuire | May 29, 2018

The first time Elliott Youngblood spots Catherine Calhoun, he's just a boy with a camera, and he's never seen a sadder and more beautiful sight. Both Elliott and Catherine feel like outcasts, yet they find an easy friendship with each other. But when Catherine needs him most, Elliott is forced to leave town.
Elliott finally returns, but he and Catherine are now different people. He's a star high school athlete, and she spends all her free time working at her mother's mysterious bed-and-breakfast. Catherine hasn't forgiven Elliott for abandoning her, but he's determined to win back her friendship…and her heart.

Just when Catherine is ready to fully trust Elliott, he becomes the prime suspect in a local tragedy. Despite the town's growing suspicions, Catherine clings to her love for Elliott. But a devastating secret that Catherine has buried could destroy whatever chance of happiness they have left.
Summer Skin by Kirsty Eagar | May 29, 2018

Jess Gordon is out for revenge. Last year the jocks from Knights College tried to shame her best friend. This year she and a hand-picked college girl gang are going to get even.
The lesson: don't mess with Unity girls.
The target: Blondie, a typical Knights stud, arrogant, cold . . . and smart enough to keep up with Jess.
A neo-riot grrl with a penchant for fanning the flames meets a rugby-playing sexist pig – sworn enemies or two people who happen to find each other when they're at their most vulnerable?
It's all Girl meets Boy, Girl steals from Boy, seduces Boy, ties Boy to a chair and burns Boy's stuff. Just your typical love story.
A searingly honest and achingly funny story about love and sex amid the hotbed of university colleges by the award-winning author of Raw Blue.
The Kiss Quotient by Helen Hoang | June 5, 2018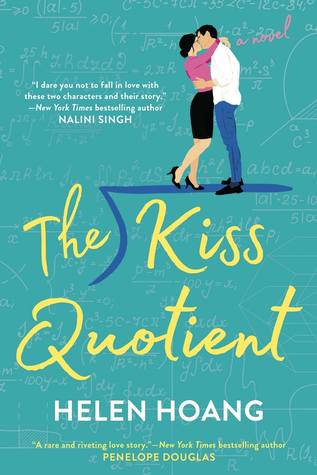 Stella Lane thinks math is the only thing that unites the universe. She comes up with algorithms to predict customer purchases–a job that has given her more money than she knows what to do with, and way less experience in the dating department than the average thirty-year-old.
It doesn't help that Stella has Asperger's and French kissing reminds her of a shark getting its teeth cleaned by pilot fish. Her conclusion: she needs lots of practice–with a professional. Which is why she hires escort Michael Phan. The Vietnamese and Swedish stunner can't afford to turn down Stella's offer, and agrees to help her check off all the boxes on her lesson plan–from foreplay to more-than-missionary position…
Before long, Stella not only learns to appreciate his kisses, but to crave all the other things he's making her feel. Soon, their no-nonsense partnership starts making a strange kind of sense. And the pattern that emerges will convince Stella that love is the best kind of logic…
Grace and Fury by Tracy Banghart | July 31, 2018

In a world where women have no rights, sisters Serina and Nomi Tessaro face two very different fates: one in the palace, the other in prison.
Serina has been groomed her whole life to become a Grace–someone to stand by the heir to the throne as a shining, subjugated example of the perfect woman. But when her headstrong and rebellious younger sister, Nomi, catches the heir's eye, it's Serina who takes the fall for the dangerous secret that Nomi has been hiding.
Now trapped in a life she never wanted, Nomi has only one way to save Serina: surrender to her role as a Grace until she can use her position to release her sister. This is easier said than done. A traitor walks the halls of the palace, and deception lurks in every corner. But Serina is running out of time, imprisoned on an island where she must fight to the death to survive and one wrong move could cost her everything.
The Good Luck Charm by Helena Hunting | August 28, 2018

Lilah isn't sure what hurt worse: the day Ethan left her to focus on his hockey career, or the day he came back eight years later. He might think they can pick up just where they left off, but she's no longer that same girl and never wants to be again.
Ethan Kane wants his glory days back. And that includes having Lilah by his side. With her, he was magic. They were magic. All he has to do is make her see that.
Just when Lilah might finally be ready to let him in, though, she finds out their reunion has nothing to do with her and everything to do with his game. But Ethan's already lost her once, and even if it costs him his career, he'll do anything to keep from losing her again.
Grim Lovelies by Megan Shepard | October 2, 2018

Seventeen-year-old Anouk envies the human world, where people known as Pretties lavish themselves in fast cars, high fashion, and have the freedom to fall in love. But Anouk can never have those things, because she is not really human. Enchanted from animal to human girl and forbidden to venture beyond her familiar Parisian prison, Anouk is a Beastie: destined for a life surrounded by dust bunnies and cinders serving Mada Vittora, the evil witch who spelled her into existence. That is, until one day she finds her mistress murdered in a pool of blood—and Anouk is accused of the crime.
Now, the world she always dreamed of is rife with danger. Pursued through Paris by the underground magical society known as the Haute, Anouk and her fellow Beasties only have three days to find the real killer before the spell keeping them human fades away. If they fail, they will lose the only lives they've ever known…but if they succeed, they could be more powerful than anyone ever bargained for.
The Boneless Mercies by April Genevieve Tucholke | October 2, 2018

Frey, Ovie, Juniper, and Runa are the Boneless Mercies—girls hired to kill quickly, quietly, and mercifully. But Frey is weary of the death trade and, having been raised on the heroic sagas of her people, dreams of a bigger life.
When she hears of an unstoppable monster ravaging a nearby town, Frey decides this is the Mercies' one chance out. The fame and fortune of bringing down such a beast would ensure a new future for all the Mercies. In fact, her actions may change the story arc of women everywhere.
Full of fierce girls, bloodlust, tenuous alliances, and unapologetic quests for glory, this elegantly spun tale challenges the power of storytelling—and who gets to be the storyteller. Perfect for fans of Maggie Stiefvater, V.E. Schwab, and Heidi Heilig.
Are any of these books on your TBR? Have you read any of them yet? Let me know in the comments!