So thought it would be fun to compile a list of YA releases coming next month! There are always so many great books releasing, but it can be hard to keep track of everything coming out. So I'm hoping this will help organize things a bit. I had to share my excitement and hopefully spread the word and get you guys excited too!


Sleight by Jennifer Sommersby | April 3
Growing up in the Cinzio Traveling Players circus, Genevieve Flannery is accustomed to a life most teenagers could never imagine: daily workouts of extravagant acrobatics; an extended family of clowns; wild animals for pets; and her mother, Delia, whose mind has always been tortured by visions—but whose love Geni never questions. In a world of performers who mystify and amaze on a daily basis, Delia's ghostly hallucinations never seemed all that strange . . . until the evening Geni and her mother are performing an aerial routine they've done hundreds of times, and Delia falls to her death.
That night, a dark curtain in Geni's life opens. Everything has changed.
As they reel from the tragedy, the Cinzio Traveling Players are also grappling with the circus's new owner: a generous, mysterious man whose connection to the circus—Geni suspects—has a dark history. And suddenly, Geni is stumbling into a new reality of her own, her life interrupted daily by the terrors only Delia used to see. As the visions around her grow stronger, Geni is not sure who she should trust or love. Worst of all, she's starting to question whether she can trust her own mind.
A thrilling and mysterious novel that captures the magic of the big top itself, Sleight is a high-flying fantasy that will enchant readers.

Ace of Shades by Amanda Foody | April 10
Welcome to the City of Sin, where casino families reign, gangs infest the streets…
and secrets hide in every shadow.
Enne Salta was raised as a proper young lady, and no lady would willingly visit New Reynes, the so-called City of Sin. But when her mother goes missing, Enne must leave her finishing school—and her reputation—behind to follow her mother's trail to the city where no one survives uncorrupted.
Frightened and alone, her only lead is a name: Levi Glaisyer. Unfortunately, Levi is not the gentleman she expected—he's a street lord and a con man. Levi is also only one payment away from cleaning up a rapidly unraveling investment scam, so he doesn't have time to investigate a woman leading a dangerous double life. Enne's offer of compensation, however, could be the solution to all his problems. 
Their search for clues leads them through glamorous casinos, illicit cabarets and into the clutches of a ruthless mafia donna. As Enne unearths an impossible secret about her past, Levi's enemies catch up to them, ensnaring him in a vicious execution game where the players always lose. To save him, Enne will need to surrender herself to the city…
And she'll need to play.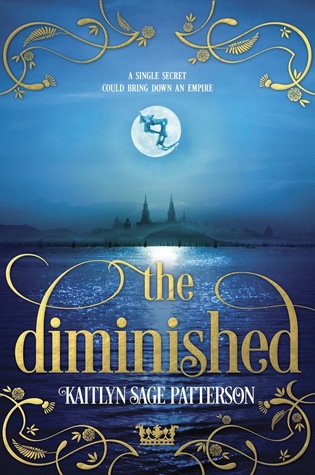 The Diminished by Kailtyn Sage Patterson | April 10
In the Alskad Empire, nearly all are born with a twin, two halves to form one whole…yet some face the world alone. 
The singleborn 
A rare few are singleborn in each generation, and therefore given the right to rule by the gods and goddesses. Bo Trousillion is one of these few, born into the royal line and destined to rule. Though he has been chosen to succeed his great-aunt, Queen Runa, as the leader of the Alskad Empire, Bo has never felt equal to the grand future before him. 
The diminished 
When one twin dies, the other usually follows, unable to face the world without their other half. Those who survive are considered diminished, doomed to succumb to the violent grief that inevitably destroys everyone whose twin has died. Such is the fate of Vi Abernathy, whose twin sister died in infancy. Raised by the anchorites of the temple after her family cast her off, Vi has spent her whole life scheming for a way to escape and live out what's left of her life in peace. 
As their sixteenth birthdays approach, Bo and Vi face very different futures—one a life of luxury as the heir to the throne, the other years of backbreaking work as a temple servant. But a long-held secret and the fate of the empire are destined to bring them together in a way they never could have imagined.

Isle of Blood and Stone by Makiia Lucier | April 10
Ulises asked, "How can I look at these maps, see this riddle, and do nothing? They are my brothers."
Elias reached across the table and flicked aside two shells with a fingertip. The map curled into itself. "It's bound to be a goose chase. You know that?"
"Or a treasure hunt," Ulises countered, "and you've always been good at those."
Nineteen-year-old Elias is a royal explorer, a skilled mapmaker, and the new king of del Mar's oldest friend. Soon he will embark on the adventure of a lifetime, an expedition past the Strait of Cain and into uncharted waters. Nothing stands in his way…until a long-ago tragedy creeps back into the light, threatening all he holds dear.
The people of St. John del Mar have never recovered from the loss of their boy princes, kidnapped eighteen years ago, both presumed dead. But when two maps surface, each bearing the same hidden riddle, troubling questions arise. What really happened to the young heirs? And why do the maps appear to be drawn by Lord Antoni, Elias's father, who vanished on that same fateful day? With the king's beautiful cousin by his side-whether he wants her there or not-Elias will race to solve the riddle of the princes. He will have to use his wits and guard his back. Because some truths are better left buried…and an unknown enemy stalks his every turn.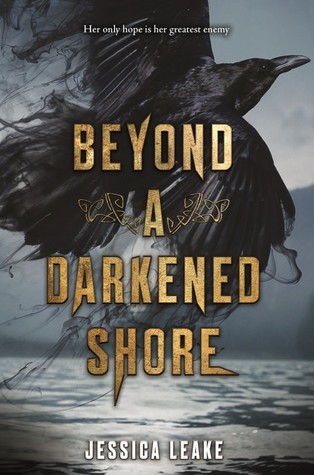 Beyond a Darkened Shore by Jessica Leake | April 10
The ancient land of Éirinn is mired in war. Ciara, Princess of Mide, has never known a time when Éirinn's kingdoms were not battling for power, or Northmen were not plundering their shores. 
The people of Mide have thankfully always been safe because of Ciara's unearthly ability to control her enemies' minds and actions. But lately, a mysterious crow has been appearing to Ciara, whispering warnings of an even darker threat. Although her clansmen dismiss her visions as pagan nonsense, Ciara fears this coming evil will destroy not just Éirinn, but the entire world. 
Then the crow leads Ciara to Leif, a young Northman leader. Leif should be Ciara's enemy, but when Ciara discovers that he, too, shares her prophetic visions, she knows he's something more. Leif is mounting an impressive army, and with Ciara's strength in battle the two might have a chance to save their world. 
With evil rising around them, they'll do what it takes to defend the land they love…even if it means making the greatest sacrifice of all.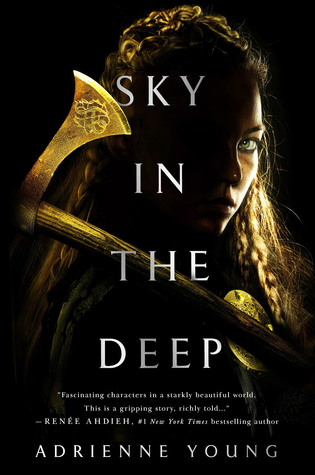 Sky in the Deep by Adrienne Young | April 24
OND ELDR. BREATHE FIRE.
Raised to be a warrior, seventeen-year-old Eelyn fights alongside her Aska clansmen in an ancient rivalry against the Riki clan. Her life is brutal but simple: fight and survive. Until the day she sees the impossible on the battlefield—her brother, fighting with the enemy—the brother she watched die five years ago.
Faced with her brother's betrayal, she must survive the winter in the mountains with the Riki, in a village where every neighbor is an enemy, every battle scar possibly one she delivered. But when the Riki village is raided by a ruthless clan thought to be a legend, Eelyn is even more desperate to get back to her beloved family.
She is given no choice but to trust Fiske, her brother's friend, who sees her as a threat. They must do the impossible: unite the clans to fight together, or risk being slaughtered one by one. Driven by a love for her clan and her growing love for Fiske, Eelyn must confront her own definition of loyalty and family while daring to put her faith in the people she's spent her life hating.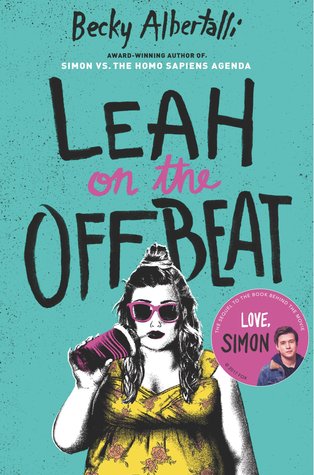 Leah on the Offbeat by Becky Albertalli | April 24
Leah Burke—girl-band drummer, master of deadpan, and Simon Spier's best friend from the award-winning Simon vs. the Homo Sapiens Agenda—takes center stage in this novel of first love and senior-year angst.
When it comes to drumming, Leah Burke is usually on beat—but real life isn't always so rhythmic. An anomaly in her friend group, she's the only child of a young, single mom, and her life is decidedly less privileged. She loves to draw but is too self-conscious to show it. And even though her mom knows she's bisexual, she hasn't mustered the courage to tell her friends—not even her openly gay BFF, Simon.
So Leah really doesn't know what to do when her rock-solid friend group starts to fracture in unexpected ways. With prom and college on the horizon, tensions are running high. It's hard for Leah to strike the right note while the people she loves are fighting—especially when she realizes she might love one of them more than she ever intended.

Ash Princess by Laura Sebastian |April 24
Theodosia was six when her country was invaded and her mother, the Queen of Flame and Fury, was murdered before her eyes. Ten years later, Theo has learned to survive under the relentless abuse of the Kaiser and his court as the ridiculed "Ash Princess." Pretending to be empty-headed and naive when she's not enduring brutal whippings, she pushes down all other thoughts but one: Keep the Kaiser happy and he will keep you safe.
When the Kaiser forces her to execute her last hope of rescue, Theo can't keep her feelings and memories pushed down any longer. She vows revenge, throwing herself into a plot to seduce and murder the Kaiser's warrior son with the help of a group of magically gifted and volatile rebels. But Theo doesn't expect to develop feelings for the Prinz. Or for her rebel allies to challenge her friendship with the one person who's been kind to her throughout the last hopeless decade: her heart's sister, Cress.
Cornered into impossible choices and unable to trust even those who are on her side, Theo will have to decide how far she's willing to go to save her people and how much of herself she's willing to sacrifice to become queen.
What other April releases are you excited about? Are you looking forward to any of these? Let me know in the comments!