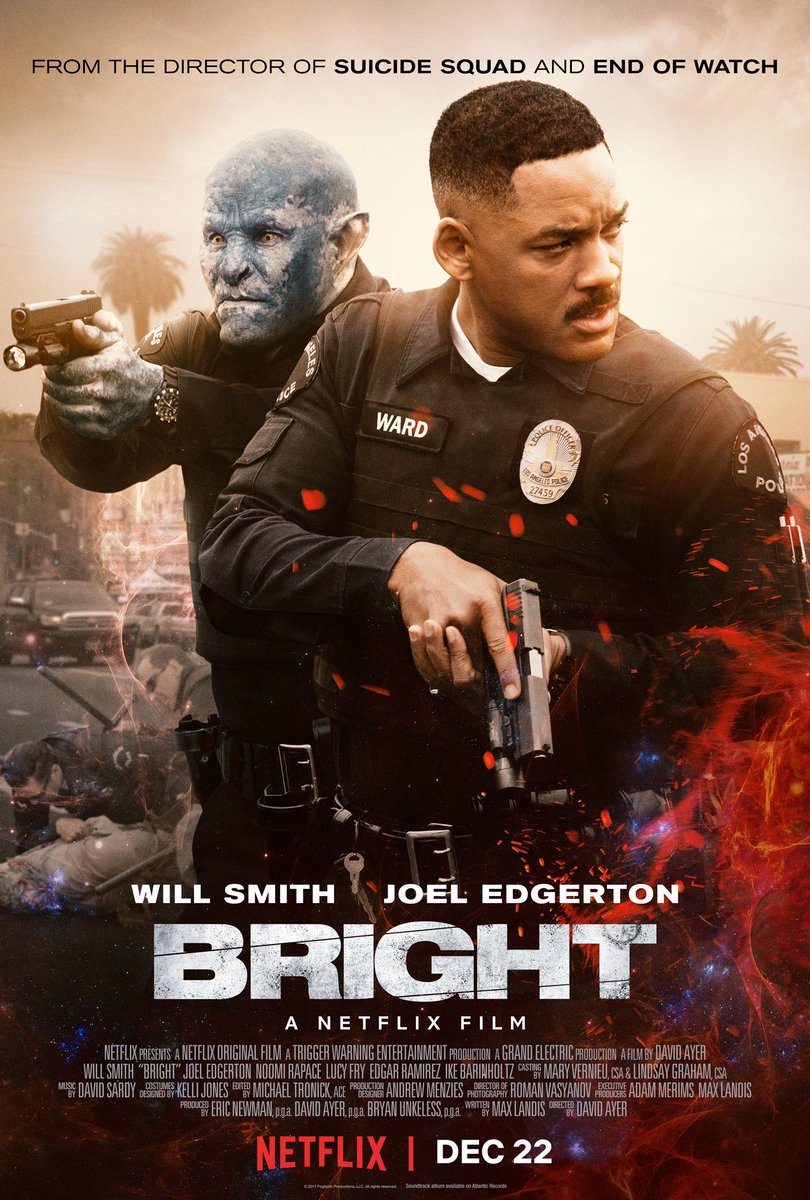 Title: Bright
Release Date: December 22, 2017
I was honestly excited for this movie because I was on a post-Fresh Prince buzz and it stars Will Smith, but I have to say that it was definitely a let down for me. Basically, it's about a world where humans, orcs, fairies, and elves co-exist. Will Smith plays one of the lead roles of a cop with an orc partner he hates. The entire plot revolves around this crazy group of elves called the Inferni who are trying to bring evil into the world with the use of magic wands. It's kind of confusing to explain, but the two cops stumble upon one and are all of a sudden being hunted down because of it.
I will say that if you are sensitive to heavy racial themes that there is a lot involved here, especially with stereotyping and such. There is also a lot of police brutality, especially towards the orcs, and it's hard not to see the parallels between the movie and reality. This movie was honestly a lot to take in considering there wasn't much background information provided beforehand. Honestly, I was kind of confused the whole way through because there is not much in the movie to provide context as to how everything came to be. There was a war mentioned, and some very evil guy, but not much about the lore is laid out. You know when someone is telling you a story and you have no clue what's happening but you keep nodding your head? That's this movie in a nutshell.
I will say one thing, though, this movie is definitely challenging the modern movie mold and I love what Netflix was trying to do. This movie was different in so many ways from what has been releasing in theatres, but it had poor execution. Apparently a sequel has already been green lit, so obviously it was popular enough, but I just didn't get it.