Waiting on Wednesday is a weekly meme hosted by Breaking the Spine that features highly anticipated book releases.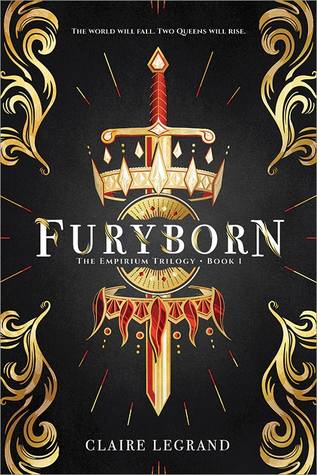 Title: Furyborn
Author: Claire Legrand
Publisher: Sourcebooks Fire
Publication Date: May 22, 2018
When assassins ambush her best friend, the crown prince, Rielle Dardenne risks everything to save him, exposing her ability to perform all seven kinds of elemental magic. The only people who should possess this extraordinary power are a pair of prophesied queens: a queen of light and salvation and a queen of blood and destruction. To prove she is the Sun Queen, Rielle must endure seven trials to test her magic. If she fails, she will be executed…unless the trials kill her first.

A thousand years later, the legend of Queen Rielle is a mere fairy tale to bounty hunter Eliana Ferracora. When the Undying Empire conquered her kingdom, she embraced violence to keep her family alive. Now, she believes herself untouchable–until her mother vanishes without a trace, along with countless other women in their city. To find her, Eliana joins a rebel captain on a dangerous mission and discovers that the evil at the heart of the empire is more terrible than she ever imagined.
As Rielle and Eliana fight in a cosmic war that spans millennia, their stories intersect, and the shocking connections between them ultimately determine the fate of their world–and of each other. 

Why am I excited?
This sounds like the ultimate YA fantasy and I'm SO there it's insane! Two Queens means two POVs and I love the alternate timeline concept. Plus, MAJOR cover appreciation on my end because we all know I'm a sucker for beautiful covers and will buy them all. Uhm, this book also has a bloody female bounty hunter in it and that sounds completely badass. There is also magic, royalty, and do I smell a potential romance subplot?! If this book doesn't sound completely awesome, then I don't know what does.