Waiting on Wednesday is a weekly meme hosted by Breaking the Spine that features highly anticipated book releases.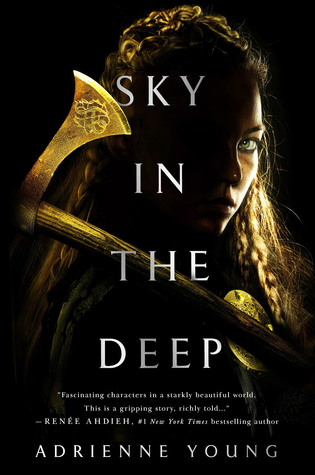 Title: Sky in the Deep
Author: Adrienne Young
Publisher: St. Martin's Press
Publication Date: April 24, 2018
Seventeen-year-old Eelyn's world is war. Raised to fight alongside her Aska clansmen in a generations-old blood feud against the Riki, her life is brutal but simple: fight and survive. Until the day she sees the impossible on the battlefield—her brother, fighting with the enemy—the brother she watched die five years ago. 

Faced with her brother's betrayal, she must survive the winter in the mountains with the Riki if she wants to make it back to the fjord after the thaw. But when she begins to see herself in the people she's been taught to hate, the world Eelyn once knew begins to crumble. And after the village is raided by a ruthless clan many believe to be a myth, Eelyn is given no choice but to trust Fiske, her brother's friend who has tried more than once to kill her. Together, they must end the blood feud between their clans or watch their people be slaughtered. 
A lush, Viking-age inspired fantasy about loyalty, forgiveness, and the definition of family.

Why am I excited?
Betrayal, bloodshed, war, VIKINGS?! What is not to love about all those things? Especially the viking part, because, well, duh. Also, that COVER is gorgeous and slightly unnerving, but I'm officially obsessed. I also recently saw that YALLfest is giving away exclusive edition ARCs and I'm super sad that I live in Canada and it's so far away. Honestly, fantasy + vikings sounds like the ultimate YA combo and I'm all about badass female protagonists. I don't even  know what I could even compare this to besides Ivory and Bone by Julie Eshbaugh, which I haven't even read yet but they appear to have similar themes of clan wars. April is too far away and I'm not prepared to wait that long at all!