Waiting on Wednesday is a weekly meme hosted by Breaking the Spine that features highly anticipated book releases.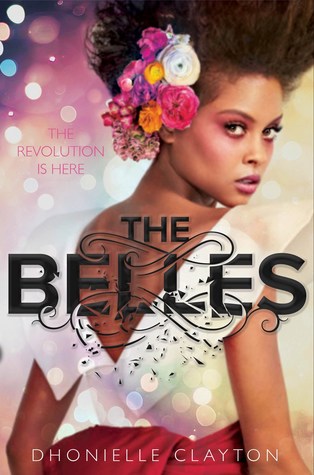 Title: The Belles
Author: Dhonielle Clayton
Publisher: Freeform
Publication Date: February 20, 2018
Camellia Beauregard is a Belle. In the opulent world of Orléans, Belles are revered, for they control Beauty, and Beauty is a commodity coveted above all else. In Orléans, the people are born gray, they are born damned, and only with the help of a Belle and her talents can they transform and be made beautiful.
But it's not enough for Camellia to be just a Belle. She wants to be the favorite—the Belle chosen by the Queen of Orléans to live in the royal palace, to tend to the royal family and their court, to be recognized as the most talented Belle in the land. But once Camellia and her Belle sisters arrive at court, it becomes clear that being the favorite is not everything she always dreamed it would be. Behind the gilded palace walls live dark secrets, and Camellia soon learns that the very essence of her existence is a lie—that her powers are far greater, and could be more dangerous, than she ever imagined. And when the queen asks Camellia to risk her own life and help the ailing princess by using Belle powers in unintended ways, Camellia now faces an impossible decision. 
With the future of Orléans and its people at stake, Camellia must decide—save herself and her sisters and the way of the Belles—or resuscitate the princess, risk her own life, and change the ways of her world forever.

Why am I excited?
The whole beauty is power thing is exciting! This kind of sounds like the lovechild of Cinderella and The Selection by Kiera Cass. If there ever were an origin story for the Fairy Godmother, I feel like this would be it, of course with a modern twist. Having the ability to bestow beauty on people because they are born damned and gray? I really want to know more about why they are born this way and how the Belles are born beautiful! But I'm hoping there is some light shed on the whole surface beauty vs. inner beauty trope, and that there's secretly some evil happening. If this turns out to be anything like The Jewel by Amy Ewing, where the MC discovers how to tap into hidden power, then I'm going to DIE of happiness.