Waiting on Wednesday is a weekly meme hosted by Breaking the Spine that features highly anticipated book releases.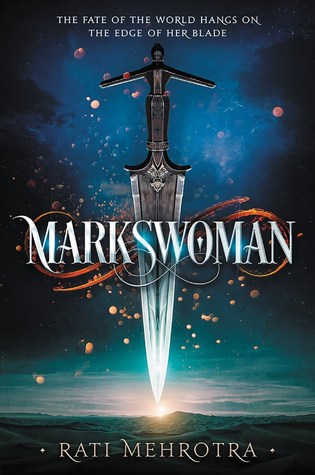 Title: Markswoman
Author: Rati Mehrotra
Publisher: HarperCollins
Publication Date: January 23, 2018
An order of magical-knife wielding female assassins brings both peace and chaos to their post-apocalyptic world in this bewitching blend of science fiction and epic fantasy—the first entry in a debut duology that displays the inventiveness of the works of Sarah Beth Durst, Marie Lu, and S. J. Kincaid
Kyra is the youngest Markswoman in the Order of Kali, a highly trained sisterhood of elite warriors armed with telepathic blades. Guided by a strict code of conduct, Kyra and the other Orders are sworn to protect the people of Asiana. But to be a Markswoman, an acolyte must repudiate her former life completely. Kyra has pledged to do so, yet she secretly harbors a fierce desire to avenge her dead family.
When Kyra's beloved mentor dies in mysterious circumstances, and Tamsyn, the powerful, dangerous Mistress of Mental Arts, assumes control of the Order, Kyra is forced on the run. Using one of the strange Transport Hubs that are remnants of Asiana's long-lost past, she finds herself in the unforgiving wilderness of desert that is home to the Order of Khur, the only Order composed of men. Among them is Rustan, a young, disillusioned Marksman whom she soon befriends.
Kyra is certain that Tamsyn committed murder in a twisted bid for power, but she has no proof. And if she fails to find it, fails in her quest to keep her beloved Order from following Tamsyn down a dark path, it could spell the beginning of the end for Kyra–and for Asiana.
But what she doesn't realize is that the line between justice and vengeance is razor thin . . . thin as the blade of a knife.

Why am I excited?
ASSASSINS. FEMALE ASSASSINS. When this book came on my radar, I immediately added it to my TBR on Goodreads. The synopsis kind of sounds similar to Wonder Woman, with an Order of all women protecting the world, and suddenly the heroine is on the run trying to unravel an evil plot. Also, TELEPATHIC blades. Yup. Does that mean that they control them with their minds? I'm also sensing their will be some romance involved in this one, but hopefully it's a subplot and doesn't take away from the sword-wielding awesomeness of Kyra. This one is also post-apocalyptic, which has total Red Queen vibes for me. Anything post-end-of-the-world has me jumping for joy like I just won a million dollars. Why is 2018 so close, yet so far?