Waiting on Wednesday is a weekly meme hosted by Breaking the Spine that features highly anticipated book releases.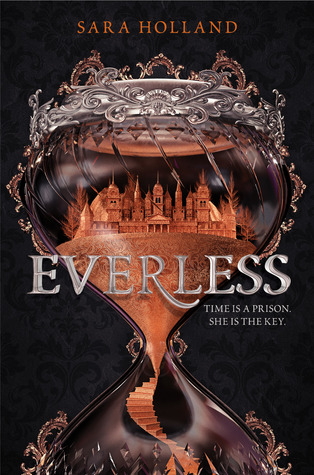 Title: Everless
Author: Sara Holland
Publisher: HarperCollins
Publication Date: January 2, 2018
In the land of Sempera, time is extracted from blood and used as payment. Jules Ember and her father were once servants at Everless, the wealthy Gerling family's estate, but were cast out after of a fateful accident a decade ago. Now, Jules's father is reaching his last hour, and she will do anything to save him.

Desperate to earn time, she arrives at the palace as it prepares for a royal wedding, ready to begin her search into childhood secrets that she once believed to be no more than myths. As she uncovers lost truths, Jules spirals deeper into a past she hardly recognizes, and faces an ancient and dangerous foe who threatens her future and the future of time itself.

Why am I excited?
This honestly sounds like what would happen if you threw the movies Prince of Persia and In Time into a blender. Also, the COVER. The whole hourglass-snowglobe-prison thing is definitely working for me. I'm also highly intrigued by the tagline "Time is a prison. She is the key." I'm hoping everyone is being lied to and there's some crazy immortal villain who's been cheating people of time. Because that would be amazing. Also TIME as PAYMENT. Take that in. Time as a currency sounds awesome, and I wonder how it works for wealthy people. How does one become rich? Is time not equal? I have so many questions after reading the synopsis, and it's only the SYNOPSIS. After reading the actual book, I'll probably have tons more to ask, too. Anyway, you should definitely keep an eye out for this title when it releases and add it to your TBR.