Waiting on Wednesday is a weekly meme hosted by Breaking the Spine that features highly anticipated book releases.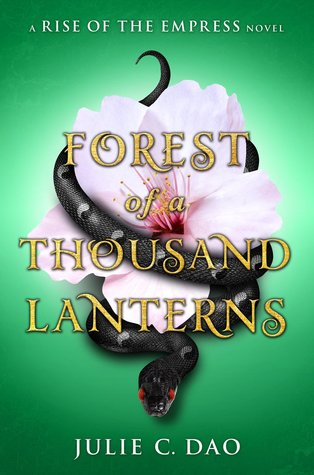 Title: Forest of a Thousand Lanterns
Author: Julie C. Dao
Publisher: Philomel Books
Publication Date: October 10th 2017
An East Asian fantasy reimagining of The Evil Queen legend about one peasant girl's quest to become Empress–and the darkness she must unleash to achieve her destiny.
Eighteen-year-old Xifeng is beautiful. The stars say she is destined for greatness, that she is meant to be Empress of Feng Lu. But only if she embraces the darkness within her.

Growing up as a peasant in a forgotten village on the edge of the map, Xifeng longs to fulfill the destiny promised to her by her cruel aunt, the witch Guma, who has read the cards and seen glimmers of Xifeng's majestic future. But is the price of the throne too high?
Because in order to achieve greatness, she must spurn the young man who loves her and exploit the callous magic that runs through her veins–sorcery fueled by eating the hearts of the recently killed. For the god who has sent her on this journey will not be satisfied until his power is absolute.

Why am I excited?
Fantasy? Check. Retelling? Check. EVIL QUEEN RETELLING?! Check. Ever since this book came on my radar I've been itching to get my hands on it. I love that it's a retelling with an East Asian twist as well, because that makes it decidedly more impressive than a simple relay of the same cookie-cutter character. I love that she's meant to be an Empress as well, because that just makes her inevitable downfall even more EPIC. Also, eating hearts? Magic? Say no more! Also, can we just take a moment of silence to admire the perfection that is this cover? Is she the snake or the flower?! I'm so intrigued! It's so colourful, yet dark, and those red snake eyes feel like they're staring into my soul.