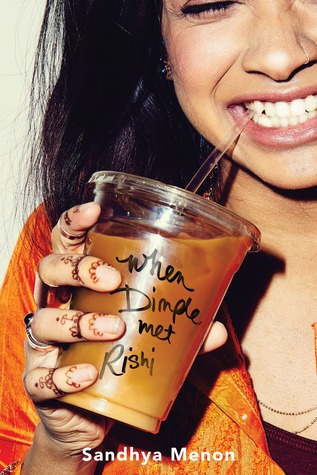 Title: When Dimple Met Rishi
Author: Sandhya Menon
Publisher: Simon & Schuster
Publication Date: May 30, 2017
Dimple Shah has it all figured out. With graduation behind her, she's more than ready for a break from her family, from Mamma's inexplicable obsession with her finding the "Ideal Indian Husband." Ugh. Dimple knows they must respect her principles on some level, though. If they truly believed she needed a husband right now, they wouldn't have paid for her to attend a summer program for aspiring web developers…right?

Rishi Patel is a hopeless romantic. So when his parents tell him that his future wife will be attending the same summer program as him—wherein he'll have to woo her—he's totally on board. Because as silly as it sounds to most people in his life, Rishi wants to be arranged, believes in the power of tradition, stability, and being a part of something much bigger than himself.
The Shahs and Patels didn't mean to start turning the wheels on this "suggested arrangement" so early in their children's lives, but when they noticed them both gravitate toward the same summer program, they figured, Why not?
Dimple and Rishi may think they have each other figured out. But when opposites clash, love works hard to prove itself in the most unexpected ways.

Why did I get it?
It sounds ADORABLE. Rebellious Dimple put together with the ever-so-traditional Rishi at the same summer camp? What could go wrong there? I love this spin on the whole arranged marriage thing, and I love that this book presents an insider's POV into how it works when not everyone is on board (*cough*Dimple*cough*). I'm honestly picturing the movie version and I think it would make the best Rom Com ever. The cover is also absolutely stunning! It's so bright and colourful (I have a slight colour obsession) and it looks amazing naked too because it's BRIGHT orange. I'm talking like ORANGE CRUSH orange. Have I told you about my addiction to shiny things yet?
Why haven't I read it yet?
I hate myself every day that I don't pick it up and just start reading because I've heard so many glowing reviews of this one! My eye twitches every time I get a new book and I have to stop myself from cracking it open (disclaimer: I do NOT crack the spines of books!) and start flipping the pages. It looks so lonely on the bottom of my bookshelf, stashed away in what I am now dubbing TBR Mountain. Yes, I realize that sounds like one of those cliche names you might hear when playing Candyland or watching Dora the Explorer, but I'm sticking with it. Anyway, if I just went and skipped ahead to the newest books I get, then I feel like TBR Mountain would become severely outdated and I would just keep the older books until they start to collect dust and become antiques. I have to keep to my system and start reading the books I've had longer….*sigh*.