I have to admit I didn't do as well as I thought I would this month, but that's because I've been putting more time into blogging rather than reading every waking moment. As they say, Rome wasn't built in a day. But, I really enjoyed everything I did get to read this month (even if I didn't ENTIRELY finish the last one…yet) and if you can't already tell, I have had a severe weakness for Romance lately. I'm trying to resist, but then I look at the steamy covers and think DAMN. I get weak in the knees just looking at them (I have a serious cover addiction) and then I turn the page and a few hours later I've read the whole book. Let's face it, books are my drug and Romance is my kryptonite.
Anyway, on to the books I managed to read!
We have Next Door Boss by Luke Steel, which I thought was going to be better than it was. It turned all dark and twisty on me and I'm still not sure how I feel about it just yet. Very misleading synopsis in my opinion. You can click the link above to see my full review of it.
I also read Cocky Chef by J.D. Hawkins and I LOVED it. The tension between Cole and Willow was epic and any book that starts off with a Gordon Ramsay quote can just jump right into my TBR. I really think there needs to be more romance books set in kitchens or about chefs (maybe I'm not looking hard enough) because there's just something about food and what it does to people.
The next book I FINALLY managed to finish is The Corner Office by Katerina Baker. I have to be honest, I was expecting more out of this one. The whole office rivalry thing pitched in
the synopsis had me really looking forward to it! But, it turned out to be a weird love triangle situation, which quickly turned for the worse. It took a lot longer for the main characters to get together, and they rarely had good moments. I still have yet to post my review for this one because it's still making me think.
Next is one of my top reads this month: Sweet Spot by Stella Rhys. I can't get over how amazing this story was! The beginning was priceless, with Lia rejecting Lukas the moment she sees him, and from there everything is just perfect. I can't wait to read the next book in the series. How have I not read any Stella Rhys until now? Thank god for that free trial of Kindle Unlimited or I would have never discovered this hidden gem.
Finally (I saved the best for last), I read Fraternize by Rachel Van Dyken. Overall, sports romance is my ULTIMATE weakness. There's just something about mixing sports and sex that is just magic. Also, it helps that the male protagonists are cocky, well-built men who feed off female desire. I'm still not over this book and I can't wait for book two to release! It was perfect in all the right places and the perfect friends-to-lovers sports romance. Seriously, I need to start binge-reading some more Rachel Van Dyken immediately. It had the same vibes as Jaci Burton's Play-by-Play series and made me laugh pretty much the entire way through. People were starting to give me funny looks.
But, I'm naturally an emotional reader and if a book makes me smile, laugh or cry, I'll do just that. Fraternize still has me feeling giddy and I don't know how to cure this book hangover just yet. I haven't been able to choose another book because I'm on such a high still. How can I possibly recover from so much awesome in one book? Highly, highly recommend this if your into sports romance, or just romance in general! This was my top read of the month and I thank the publisher every day for sending it my way.
Finally, we have Before She Ignites by Jodi Meadows. I'm about 60% done and loving it so far! The beginning was a little shaky for me because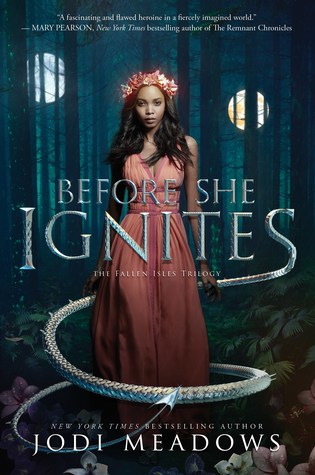 I'm not used to the style of writing, but once I started getting into it it was kind of fun. Let's just say it has dragons. Yup, DRAGONS. Glorious fire-breathing dragons. That's all I will say for now because I have yet to finish it and will have to sort through my tsunami of thoughts and emotions to write something coherent.
All I can say is: bring on September! I can't wait to see what kind of damage I can to do my TBR by then, and with all the great new releases maybe I can switch it up from romance finally! No more reading slumps for me (hopefully)!