This weekly feature will go through all of the books I've been meaning to read, but have been collecting dust on my bookshelf for some time now, or a book/series that I've been meaning to get but haven't.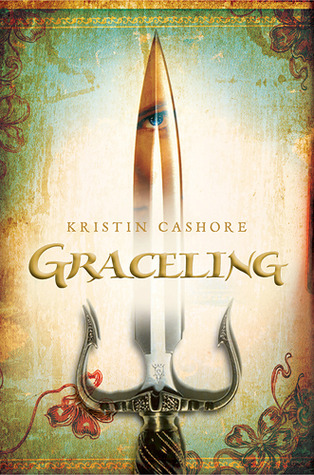 Title: Graceling
Author: Kristin Cashore
Publisher: Houghton Mifflin Harcourt
Publication Date: October 1st 2008
Katsa has been able to kill a man with her bare hands since she was eight – she's a Graceling, one of the rare people in her land born with an extreme skill. As niece of the king, she should be able to live a life of privilege, but Graced as she is with killing, she is forced to work as the king's thug.
When she first meets Prince Po, Graced with combat skills, Katsa has no hint of how her life is about to change.

She never expects to become Po's friend.
She never expects to learn a new truth about her own Grace – or about a terrible secret that lies hidden far away.


Why did I get it?
I think I picked this book up in my post-Red Queen phase, where I was trying to find all the similar books simply because I was going through major withdrawal in my year-long wait for the sequel. I'm always a sucker for a good cover, too. Plus, the fantasy and magic aspect of it had me hooked. People born with a 'Grace'? Sounds epic to me! The thought of Katsa being taken advantage of too by her own uncle intrigued me as well. And, GIRL THUG? Wicked premise. I love reading about the inner workings of corrupt royal families, it's just so fun reading about people who are supposed to be flawless, but are simply showing the people what they want them to see.
Why haven't I read it?
Well, the answer is simple, really: I haven't made the time. I'm always piling books on top of each other and the more I get, the more I become overwhelmed. I remember the good ol' days when my TBR was a few books away from being non-existent, but now I'm pretty sure it has all but come to life. Plus, I find myself going through phases where I'll read one genre and then move on. I never know what to read next because everything sounds so good all the time. Hence, the ten or so books I'm currently reading. it sounds so simple to just pick up a book and read it, but the process behind it is something else entirely. What mood am I in? Am I feeling a long or short book? eBook? Hardcover? Paperback? I don't know when I started to make reading complicated, but I like being able to get lost in a book for hours.