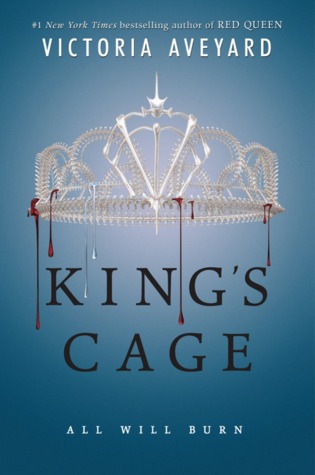 This month I finally managed to finish a few books that I had previously started and put down and also started a new one and finished it! My biggest accomplishment, though, was finally finishing the beast that is King's Cage. It took so long to get to the good stuff that I was tempted to put it down again, but I got through it. My favourite book I read this month is definitely This is Dangerous by Kennedy Fox. If you haven't heard of Kennedy Fox, then you need to check out the secret dynamic writing duo and their romance books! I'd highly recommend starting with This is War, but each book can be read as a standalone.
August is going to be my free month to finally sit back and read because school will be done for a month. Hello
Goodreads Challenge, remember me? I'm hoping to start by finishing the books that I have already started and then take a crack at that daunting TBR. It's hard because I never know what I'm in the mood for anymore. More often than not I find myself diving into
another romance book. I can't help myself, I guess I'm a hopeless romantic in some ways. That's why I loved Eye Candy by Jessica Lemmon because it gave me all the feels I needed. I always love a good office romance because there is something so captivating about forbidden love. I also might have loved it because it reminded me of a few of my favourite rom com's that I love to watch every now and again. I have yet to finish my review for it, but I'm working on getting reviews out more regularly now that I have some free time on my hands.
I also devoured Crown Jewels by Ella James this month, and I loved it! After discovering the beautiful Kindle Unlimited on Amazon, I got all three books in the series for free and I can't wait to get to the other two. All I can say is that I'm now completely obsessed with Ella
James. I'll post my review for it soon.
In addition, I also found the time to read one of the other Ella James books, which actually just released in July: Fractured Love. This hot forbidden love romance smashed my heart into a million pieces! It also may have included a hot doctor….
Another Kindle Unlimited book that I was able to get was
My Brother's Best Friend by Nikki Chase. Right from the start it was on fire! There was an undeniable spark between Gabe and Jacqueline that just couldn't be put out and I finished it in less than a day.
Here's to hoping that I can actually follow through on my reading goals for once instead of getting stuck in another reading slump. I think my problem is that I get tempted by all the books and then I tell myself that I'm bored of my current read when I'm not. That would explain the ten books I'm stuck currently reading.