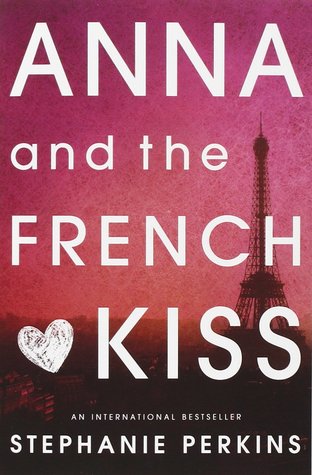 Title: Anna and the French Kiss
Author: Stephanie Perkins
Publisher: Speak
Publication Date: December 2, 2010
Can Anna find love in the City of Light?

Anna is happy in Atlanta. She has a loyal best friend and a crush on her coworker at the movie theater, who is just starting to return her affection. So she's less than thrilled when her father decides to send her to a boarding school in Paris for her senior year.
But despite not speaking a word of French, Anna meets some cool new people, including the handsome Étienne St. Clair, who quickly becomes her best friend. Unfortunately, he's taken —and Anna might be, too. Will a year of romantic near misses end with the French kiss she's waiting for?


Review: Can I just start by saying that Etienne St. Clair sounds like an absolute dreamboat? Move over Anna, he's mine! I could listen to that accent of his all day long and never get tired of it. This book had everything short of being a picture perfect fairy tale, especially considering the fact that it all takes place in the City of Love. Of course Anna and St. Clair had their ups and downs, and kept missing opportunities to be together, but that's why their story was so perfect. After carefully tiptoeing around their feelings for a year, they finally confessed their undying love for each other. My poor heart could barely take it at that point!
I loved the connections that Anna made with Meredith, Rashmi and Josh as well, because they essentially became her emotional rocks for when she was stewing in her confusing feelings for St. Clair. Her friendships really helped ground her character, especially as she was treading carefully in unfamiliar territory. One character I absolutely did not care for was Ellie. She was constantly messing with St. Clair's head, and their relationship was a sinking ship from the get-go. This book also brought up a lot of important issues relevant to those who have gone through or dealt with separations and divorces. It also hints at some child abuse *cough cough* both emotional and possibly physical. There were also a lot of teen issues brought up such as bullying, stereotypes, self-esteem, relationships, sex, etc. This is a great read for anyone looking for something light-hearted and fun!
Rating: 5/5